Brent Moyer

Currently available from Brambus Records:
Tracks:

Why Fight It
On Captiva
Boston To Austin
Never Too Late

What's Going On With You
Dig Two Graves
Easy Side
Kay, Que Pasa
So Much

---
Nashville, Tennessee, April 1st, 2017. Brent Moyer aka The Global Cowboy, singer/songwriter/actor/musician, has just released his newest CD, Music Tells The Truth, on Brambus Records.
It features 12 songs co-written with some of Nashville's most prolific songwriters; Cathryn Craig and Brian Willoughby (We're Walking Each Other Home), Anne McCue (Dig Two Graves), Joe Collins (Why Fight It, On Captiva), Reckless Johnny Wales (Music Tells The Truth, Boston To Austin, Dig Two Graves, Kay, Que Pasa), Aaron Raitiere (So Much), Lucas P. Gravel (Easy Side) and John Hadley (Never Too Late, What's Going On With You, Can't Get There From Here).
Some highlights feature a beautiful duet with Cathryn Craig and the tasty guitar work of Brian Willoughby on We're Walking Each Other Home. They also recorded it on their latest CD, In America, and has been getting a lot of airplay in the UK.
Joe Collins (cuts by Rascal Flatts, Kenny Rogers, Randy Travis, Billy Ray Cyrus) brings his pop savvy-Tom Petty-groove to "Why Fight It" and "On Captiva" that will make you want to stick your toes in the sand and grab a cold one. Check out the video! https://youtu.be/DGnIdmy0oH8
"Dig Two Graves" is a song about revenge. It was the lead off song on Anne McCue's latest CD, Blue Sky Thinking. She adds her amazing vocal talents as well as her hot gypsy guitar to this track. "It was a song that was born one afternoon. I had this musical idea that I came up with a few years back while touring in Czech Republic. I played it for Anne and she loved it and invited me to bring it to her writing session with Reckless Johnny Wales later that day. Within an hour, we pretty much had it done as Reckless had a story pretty much written that married perfectly with the music. Anne came up with a bridge and fine-tuned it!"
Moyer, and his long time friend and co-conspirator, Nashville Rebel-Outlaw-Legend Reckless Johnny Wales, have written some tunes that will take you on a journey through space and time. Along with John Hadley (Waylon Jennings, George Jones, Linda Ronstadt, Garth Brooks, Dixie Chicks) who offers up his songwriting expertise along with Moyer's musical wit, they rock it up and round out the CD.
This CD sparkles with Moyer's topnotch production skills and his exquisite guitar prowess. Sit back and relax, get your groove on and enjoy Music Tells The Truth.

www.BrentMoyer.com

I have had the great pleasure of writing, recording and playing "live" with Brent Moyer, who always presents a sympathetic, musically thoughtful feel to any song. Nashville is a town brimming with great players, but few have the sensitivity and understanding of my pal, The Global Cowboy. (Brian Willoughby, Strawbs lead guitarist 1978 - 2004)
There is no home on the range for balladeer Brent Moyer. Known as the Global Cowboy, his creations provide a broad perspective of human experience. He speaks a global language of emotion sparking the campfires of our imaginations. (Charles Chiarchiaro)
Some folks make great traveling companions. Brent Moyer is one of them. He's the original Global Cowboy. There's a reason Brent is one of the most sought after musicians in Nashville. His guitar playing is diverse and his sense of composition is refined, yet free as an eagle in a blue Wyoming sky. Sit back and let his music take you on a ride. And don't worry - you're always safe with the Global Cowboy by your side. (Bob Saporiti, Senior Vice-President, Warner Bros. Records-Retired)

---
Tennessee Tears
Tracks:

Cry For The Last Time
Love Will Find A Way
Tennessee Tears
Ducky Flamenco
Last Of The Honky Tonk Kind
Other Side Of Pride

Never Stop
Love Don't Care
Getting Down In Jackson Hole
Things I Can't Do
Fight The Fight
Passsing Of A Season
Only For A Moment

---
Brambus is celebrating its 25th anniversary with some outstanding releases in 2014! The first one of the serie is the new masterpiece of Nashville Troubadour BRENT MOYER, who has half a dozen full length CDs on Brambus!
There is no home on the range for balladeer Brent Moyer. Known as the Global Cowboy, his creations provide a broad perspective of human experience. He speaks a global language of emotion sparking the campfires of our imaginations.
His newest CD, Tennessee Tears, takes a starry-skied, world ride that is sure to thrill his global audience; some honky tonk, some pop country and a flamenco tribute to his Dad.
The title track, "Tennessee Tears", is a sparse rendition with just acoustic guitar, bass and percussion. What really brings this to life are the tight harmonies of Norwegian country stars, Ottar Johansen and Tore Andersen, and honky tonker Joe Sun. Along with Moyer they perform as NorVille at special events and songwriter festivals in the USA.
The country ballad "On The Other Side of Pride" features Swiss Country Star, Doris Ackermann, sharing vocals with Moyer. She also joins in on the rockabilly tune, "Honky Tonk Proud", and the pop country, "Cry For the Last Time", both co-written with Canadian husband/wife duo, Michele and John Law.
Groove along with the blue-eyed soul of "Love Will Find a Way", have a toss in the hay with the rollicking, "Getting Down in Jackson Hole", or take a reflective look back with, "Things I Can't Do". There is some very special stardust embracing this CD that assuredly will touch the hearts and souls of all listeners. Enjoy your ride alongside the Global Cowboy! (Charles Chiarchiaro)
More infos, fotos and concert dates: www.brentmoyer.com

---
Tracks:

Trouble With Love
Gypsy Rendezvous
Used To Be
El Mundo
Blue Blue Tears

Pauvre Coeur Casse'
Butt, Bop, Boogie
Kiki Riki
Ring of Fire
Faith Will Survive

---
Since many years, Brent Moyer is a true follower of Brambus Records and we are pleased to add his new album to our catalogue as all his previous works. It is again a strong album which contains all that made Brent Moyer known in the world of country music, songwrititing and it again is filled with sidesteps towards texmex and Cajun.
Introducing the new CD, Gypsy Rendezvous: This CD features some of the original cast members from the Ring of Fire Broadway show. Jeff Lisenby on keys and accordion, Ron Krasinski on drums, Dan Immel on upright bass and vocalist, Beth Malone (Ring of Fire). Songs include the hit, Winds of Change (Tim DeBolt/Moyer), the Kostas/Moyer collaboration, Blue Blue Tears and a special rendition of the June Carter/Merle Kilgore classic, Ring of Fire...
and...Gypsy Rendezvous (Moyer), Beaten Path (Thomm Jutz/Moyer), Used To Be (Joe Sun/Moyer), El Mundo (Tim DeBolt/Moyer), Pauvre Coeur Casse' (Michael Snow/Moyer), Kiki Riki (Moyer), Butt, Bop, Boogie (Moyer), I'm Saying It Right )Tim DeBolt/Moyer), The Trouble With Love (Richard Ferreria/Moyer) and Faith Will Survive (Moyer).
It was recorded in Nashville with Thomm Jutz at tjtunes and also features local musicians; Jay Patton (sax), Michael Johnson (classical guitar), Le Anne Etheridge, Vicki Hardy, and Michael Snow, (vocals), Pat McInerney (percussion), Thomm Jutz (electric guitar), John Heinrich (pedal steel & sax), Brook Langton (lap steel), Andy Most (electric guitar), Richard Bailey (banjo) and Kirby Shelstad (tabla drum)
---
Tracks:

Bohemia
One Night In June
Too Cool For Words
King & Queen of Tomorrow
Devil's Right Hand

Hillbilly Wine
We Love You Man
Fresh Water Pirates
Next Time
Blessing In Disquise

---
Brent Moyer hat soeben sein neues Album eingespielt: Global Cowboy, seine vierte Produktion für Brambus und genauso gut und vielseitig wie die Vorgängeralben! Global Cowboy ist eine lebendige Sammlung von eigenen Songs, die das breite Stilspektrum von Brent Moyer abdeckt: Cajun/Tex-Mex, Americana und Country-Rock. Diese CD glänzt mit der feinen Virtuosität von Brent Moyer als Musiker. Er spielt viele der Instrumente auf der CD selber und hat zudem einige der feinsten Picker der Nashville-Szene als Gast. Brent Moyer hat seine Liebe zum Reisen und Touren in das Motto seiner Musik umgewandelt - Global Cowboy – seine Art zu Leben. Mit seinen packenden Rhythmen und gefühlsvollen Lyriken ladet er den Zuhörer zum mitreisen auf. Seine neue CD ist eine eindrückliche Reise in Zeit und Raum, aber immer verwurzelt in der weitausgelegten Country- und Americana-Szene.
"Fresh Water Pirates" bringt den Zuhörer dahin, wo Brent Moyers Jugend war, jamming am Snake River in Wyoming, eine wichtige und entspannte Zeit für ihn und seine Freunde, laid-back, mit offener Annäherung an die Musik. Die CD hat daneben auch ein paar gute alte Honky-Tonk-Nummern aus Brent Moyers ausführlicher Tournee-Erfahrung, Mitsing-Hymnen wie "Hillbilly Wine" oder "We Love You Man". Er verarbeitet auch eine Art von Beatles-Saiten-Arrangements mit ungewöhnlichen Elektrogitarrenteilen und entführt auf diese Weise in ein mysteriöses und begeisterndes Prag im Song "Bohemia". Auf der leichteren Seite ist die Tex-Mex-Nummer "King & Queen", ein Song über ein abenteuerlustiges Paar an der mexikanischen Grenze mit Trompeteneinlagen zu hören. Etwas poppiger und vielleicht radio-freundlicher sind die Songs, "Wind, Water, Fire & Time" and "Next Time". Auch diese Nummer beinhalten ein paar feine Bläserarrangements. Dann hat Brent Moyer Joe Sun's Song "Restless" eingespielt – mit Joe Sun als Gast - und die rockigste Nummer des Albums "Too Cool For Words" ist einfach zu cool und zu funky! Die Songs wurden unter anderem mit Ron Davies (Too Cool For Words), Wayne Carson (Blessing In Disguise), Will McClean (One Night In June), Jimmy Lewis (Wind, Water, Fire & Time), Jeff Stewart (Next Time), Tim DeBolt (King & Queen Of Tomorrow) und Joe Sun (Restless) geschrieben – alles Top-Cracks der Nashville Music Row!
---
Brent Moyer has just finished recording his latest CD, Global Cowboy, his fourth production for Swiss-based Brambus Records. Global Cowboy is a lively collection of original songs that cover the different styles that Moyer slips so comfortably into; Cajun/Tex-Mex, Americana and Country-Rock. This CD shines with Moyer's fine ability as a musician. He plays many of the instruments on the CD himself and also features some of Nashville's finest pickers. Brent Moyer has turned his love of travel into his motto - Global Cowboy - his way of life. With his empathized rhythm and sensitive lyrics, he invites everyone to be part of it. His new CD is an impressive voyage into time and space.
"Fresh Water Pirates" takes us back to his youth, where "jamming" on Wyoming's Snake River was essential for Brent and his friends instilling in him his laid-back, wide-open approach to his music. Not only does this CD feature some good ole honky-tonk, sing-along anthems like "Hillbilly Wine" and "We Love You Man", it also takes us, with the help of a Beatle..ish string arrangement and spooky electric guitar, through the dark alleys of a mysterious and exciting Prague in the song "Bohemia". On the lighter side, the Tex-Mex romp, "King & Queen", is a feisty little tune about a carefree, adventurous couple on the Mexican border and features his sparkling trumpet. The popish, radio-friendly songs, "Wind, Water, Fire & Time" and "Next Time" also feature some nice horn arrangements and luscious harmonies. The song "Restless", penned with Joe Sun, features Joe as a guest vocalist and is the most rocking song on the CD and "Too Cool For Words" is just that, too funky and way too cool.
Co-writers include music row hit makers, Ron Davies (Too Cool For Words), Wayne Carson (Blessing In Disguise), Will McClean (One Night In June), Jimmy Lewis (Wind, Water, Fire & Time), Jeff Stewart (Next Time), Tim DeBolt (King & Queen Of Tomorrow) and Joe Sun (Restless).
---
Tracks:

Keep Going On
You Talk Too Much
First Taste Of Summer
Heaven's Not A Place, It's You
Come On And Do It To Me
What Can I Do?

Desperate Cowgirl
Don't Go Changing
Vacation
Drinkin' My Thinkin'
When Love Gets A 'Hold Of Your Heart

---
In Nashville gehört Brent Moyer seit langem zu den heissen Insidertip, hierzulande ist er noch immer ein Geheimtip, und dies obwohl seine beiden Vorgängeralben auf Brambus hervorragende Country-Produktionen waren. Das neue Werk ist sein bisher bestes und reifstes Album und präsentiert ihn einmal mehr als gefühlsvoller Songschreiber und Megagitarist. Brent Moyer hat auch das Feingefühl für verschiedenartigste Arrangements, so kommen hier nebst den übli-chen Begleitern auch etwas Steel-Drums, Fiddle, Akkordeon, Trompete usw. zum Einsatz. Geboten werden insgesamt vierzehn neue Songs, die allesamt im Begriff Country Platz finden, da und dort aber etwas in Randgebiete wie Cajun, Tex-Mex oder Bluegrass abwandern, ohne allerdings die klare rote Linie zu überschreiten.
Brent Moyer hat sich als Gitarrist der Lynn Anderson Band längst Gehör verschafft und seine ausserordentlichen Fähigkeiten als Songschreiber kennt man auch aus verschiedenen Nummern, die teils von aktuellen Country-Stars angeboten wer den und aus der Schreibgemeinschaft mit Leuten wie Tim De Bolt, Kostas und anderen etablierten Songlieferanten der Nashville-Szene kommen. Unter den musikalischen Begleitern im Studio finden sich etliche etablierte Namen, etwa die Sängerin Lana Brown, Drumer Pat McInerney, Ron Davies und etliche mehr.
---
Brent Moyer is one of the hottest insider tips of the Nashville country scene, nearly a secret on the european side of the atlantic. And this even after finding very good critics and feedback for his first two Brambus releases. The new album is his current masterpiece, better and grown up. He confirms his great taste as a care-full songwriter and an outstanding acoustic guitar player. Brent Moyer has a very distinctive feeling for fine arrangements and so we get to hear besides the "usual" country arrangements: steeldrum, fiddle, accordeon, trumpet and more. The album has a total of fourteen new songs, which all fit in the field of country music, but reach over the edge into cajun, tex-mex or even a bit of bluegrass'; not really crossing the clear red line.
Brent Moyer has established a great name as guitarplayer for the band of Lynn Anderson (rose garden) and his outstanding ability as a songwriter is known from several songs which have been recorded by allready known artists of the country scene and which were written in cooperation with established writers such as Tim De Bolt, Kostas and other more from the main Nashville scene. The new album has been recorded with several notable names, including singer Lana Brown, drumer Pat McInerney, Ron Davis and more.
---
Tracks:

Point of View
Miss Pretty Please
Les Bon Temps
Red Lips, Blue Eyes, Little White Lies
Western Fire
Not Through Leavin' Yet
There She Goes
Labor of Love

Just Let Her Go
Blueberry Winter
Lonesome Blue Goodbye
Head Over Heels
When The Sun Goes Down in Santa Fe
All The Tea in China
Steady as a Heartbeat

---
Tracks:

Happy New Year, Darlin'
At The Louee
My Blue Moon
Truth, Trust, Dreams and Heart
Feels Like The First
Time Will Tell

Mindy
Picking Up Cans
I Never Felt The Blues
How 'Bout You
Ain't That Just The Way It Goes
My Heart Won't Forget

---
American music is one of the greatest gifts ever bestowed upon this good earth. And songwriter -guitarist, Brent Moyer is an American musician with everything that promise holds... His new CD is titled "Truth, Trust, Dreams & Heart"... and that's it exactly.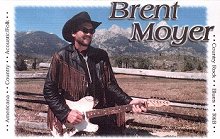 Raised in the mountains of Wyoming, Brent's hot, high - energy guitar style and rich baritone voice wrapped around his original songs invoke classical Heartland sounds - the intricate melding of American musical genres, Country, R&B, and Americana. Authenticity and soul, it's all there.
Brent has produced and recorded various artists; and his own songs have been covered by noted musicians like Joe Sun. A Brent Moyer/Kostas collaboration, "Red Lips, Blue Eyes, Little White Lies," recorded by Ottar "Big Hand" Johansen, was nominated for a Norwegian Grammy, and also, recently released by Decca recording artist Gary Allan. Brent is also one of the co-founders of "The Chili Shack Show," a musical variety show, which was broadcast regionally and nationally. Guests have included notable talents such as Faith Hill, Nancy Griffith, Chris LeDoux, and disco superstar Donna Summer.
Brent has shared the stage with many legendary performers, including Willie Nelson & Carl Perkins. He now divides his time between playing lead guitar for Lynn Anderson and pursuing his solo recording and performing career in Europe. Brent Moyer has been deep into the heart of the musical experience all of his life, and he knows how to give that experience over to his audience. His live shows are marked by musical honesty and emotional intensity - and for being a fun time for all. Brent is a true craftsman, songsmith, and entertainer.
That's what he does.